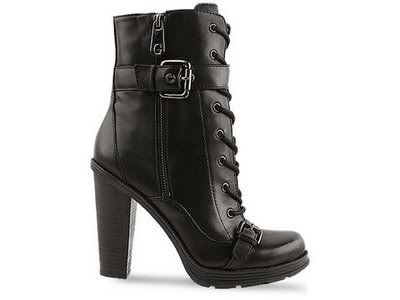 Guess Maeve Boots. Unbridled. Lust. That describes my feeling for these. Pretty much ever since I saw the Topshop Emma Cook boots. I had to walk around in legit army combat boots for a emergency response program that I did for the past 4 years just about every weekend so I blame my love of manly dominatrix shoes on that. I also blame them for being 56% off,
Laurel
for looking amazing in them, and my math final that I would do just about anything to get out of studying for.
Oh dear, lots of blame in my life right now.
I am fully aware of all the crap I will get from people in my life for wearing these shoes. For example, my sister responded with "ew" when I sent her a picture and told me to at least get them in brown because "the black ones are too combat emo boot-y." We share DNA but not fashion sense.
I was greatly amused when in an enthusiastic user's review of the shoes, the woman claimed that she bought them for a hiking trip. She must not be married. That's all I can say.
I AM SO EXCITED FOR THESE TO COME. There was a certain thrill in getting the last pair in my size.
It is bad that material things bring me such joy? Ah well, first major shoe purchase calls for such excitement.. yes?